THE LAW FIRM
The studio is located in the city center, in Piazza B. Michelotti, on the first floor of Palazzo Veracchi, built in the 14th century.
The study was founded by Atty. Antonio Bagianti in 1960 and became a professional association on 1.1.2000.
The association, which invests heavily in updating and innovation, carries out its extrajudicial and judicial activity also at the Supreme Court of Cassation, in various branches of law (Civil, commercial, labour and criminal) relying on the contribution of various professionals, each of whom deals with a specific sector and with collaborators.
The study has also always provided training for young practitioners.
The firm is also in partnership with the Spinelli law firm specializing in public contracts, concessions, PPPs, project finance, with offices in Perugia, Milan and Rome. Over the years it has established profitable professional collaborations with some of the most established law firms in the major Italian cities.
Professionals carry out their activities in compliance with the principles of freedom, autonomy and independence of the lawyer, the inviolability of the right of defense and the duties and responsibilities provided for by forensic ethics.
The study guarantees the use of English and French.
The Bagianti Associati law firm was recognized as "Law Studio of the Year – 2019" as result of a research promoted by Il Sole 24 ORE and the research company Statista, created for the first time in Italy, to reveal the excellences of the legal landscape in Italy according to indications by lawyers, professionals and clients *
*In the edition dated 13.5.19, Il Sole 24 Ore published a report on the law firms of the year 2019, by "Statista", an independent German company specializing in market analysis and data collection and processing, research was conducted from 6.XI.2018 to 31.1.2019 among professionals, companies and clients. Through a personalized link, over 30 thousand lawyers active in Italy and the business jurists from 250 of the largest Italian companies were invited to participate in the survey. The sample was selected in a representative manner on a geographical level by drawing from various sources.
Clients were able to respond through a questionnaire dedicated to them and report on the law firms with which they had had experience in the various sectors. 531 studios in Italy were selected based on the positive reports collected, 4 of which in Umbria, which were classified as excellent in their geographical area.
NEWS
Law firm of the year 2019
Our studio is among 4 of the law firms awarded in Umbria and among the 33 best law firms in Central Italy, according to the paper Il Sole 24 Ore-Statista, this research was published in Il Sole 24 Ore, May 13, 2019.
Many thanks go to those who nominated our Studio, this a source of pride for our team, who feels rewarded by the excellent work carried out.
Read the article in Il Sole 24 Ore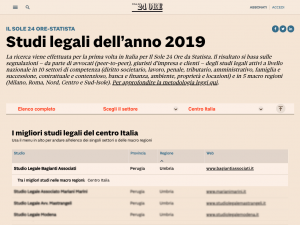 ACTIVITY